Unlock Better Learning Outcomes
Discover how Lumination has become the trusted choice for schools and businesses in Australia. With an evidence-based approach, our products and software enable engagement among students and trainees that improve learning outcomes.
Harness The Power Of Immersive Learning
Designed by Educators, for Educators
Whether you are a school looking to increase student engagement and improve learning outcomes or a business wanting to train staff faster in a safe and secure environment, Lumination's innovative solutions can help you achieve results.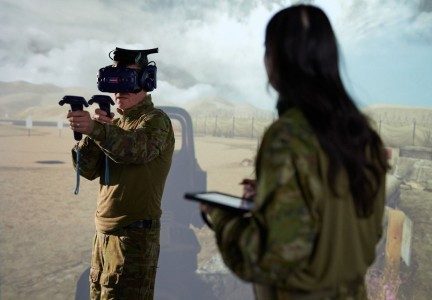 Lumination Learning Lab for Industry
Full stack simulation training solution used to onboard, reskill and upskill staff in a range of virtual environments.
Discover
Lumination Learning Lab for Education
Smart Classrooms that use virtual and augmented reality for experiential learning across all subjects directly linked to the curriculum.
Discover
LeadMe
Classroom management software that provides centralised access to immersive content and enables educators to easily control technology inside a Lab.
Discover
Lumination Learning Labs Are Revolutionising Education
Step into the innovative world of a Lumination Learning Lab. This smart classroom, created with input from educators, is redefining the student learning experience.
The Lab uses virtual reality and augmented reality technology to unlock new opportunities to learn, engage, critically think and collaborate.
Experience best in class immersive technology, user-friendly LeadMe software to use the Lab, educator-guided implementation support and a range of lesson plans.
See Our Labs in Action
Empower Your Students To Achieve Their Best
Schools and Businesses are seeing remarkable results from the use of their Lumination Learning Lab. From increased engagement, empathy and outcomes, educators and students are seeing the benefits.
It is now your turn to harness the potential of a Lab to provide students with the opportunity they need to succeed and achieve their best.
96%
of Students prefer learning in a Lab compared to a traditional classroom.
50%
increase in engagement from students inside a Lab.
60%
increase in student attention during class inside a Lab.
12%
increase in student empathy when using a Lab to learn.
30+
Labs built or currently underway across Australia.
Trusted by Schools and Business Across Australia
Underdale High School
This company has been extremely professional to work with, supportive and transparent. The ongoing training and lab champions have been fabulous. Clarity around the build and communication has been excellent.
Mary-Lou Michael
Principal
Parlalowie R-12 School
The benefits and engagement for students today is purposeful for their interpersonal growth and development of the education and success future beyond school. We are very happy with the collaborative partnership throughout project and the installation to address & incorporate aspects that recognizes student & teaching needs.
Stewart Sparrow
Business Manager
Kidman Park Primary School
Very professional approach. Clear communication. All staff were very friendly and helpful. Thank you very much. I look forward to our ongoing work together.
St Francis Catholic College
Excellent support received throughout the installation process. Darren regularly communicated with our team and managed the installation seamlessly.
Lisa Isaac
Business Manager